By Mahira Tiwana '15:
A dedicated activist, Joy Rukanzakanza '19 was one of a hundred students in the U.S. awarded the 2016 Davis Peace Projects Award. The political science major and Africana studies minor is working to improve access to education for young girls in Filabusi, Zimbabwe, through providing mentorship and reusable sanitary wear.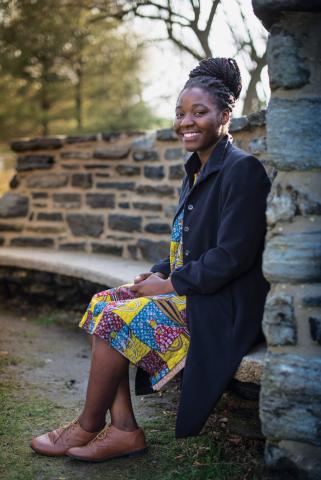 To facilitate better access to education for female students, Project Qeqesha—Qeqesha means to graduate—provides mentorship and career guidance platforms and access to reusable sanitary pads, and initiates sustainable projects so that girls can have access to property ownership and develop entrepreneurial skills. It aims to ensure that girls don't miss school because they either lose motivation or lack sanitary wear for their monthly period.
Rukanzakanza explains, "I was a city girl and still had limited access to sanitary wear substitutes. I realized how girls in rural areas don't even have cloth or cotton to wear and how detrimental it is to their education."
The project was designed to make sanitary wear both accessible and sustainable. The first stage involved incorporating community and women's empowerment organizations to encourage academic pursuits and provide mentorship. Second, Rukanzakanza procured reusable sanitary pads for 377 female students, from MyPads Zimbabwe.To sustain the effort, she established a chicken run for the school, which provides funds for more pads and sanitary wear.
"It's going very well," Rukanzakanza reports. "After the summer, I chose not to detach myself and am still in touch with them. It's challenging to run from here, but it's great to have a system where people are hardworking and smart and making sure the project runs smoothly. We want to solicit more organizations and work with other schools and causes and eventually start a national initiative. I don't want this to end with one school."
What's Next? "More schools have reached out to me about issues with HIV, teen pregnancies, and lack of facilities. I want to help them. I have also been chosen to attend the Global Engagement Summit, where student leaders from more than 45 countries will converge to learn more on how they can serve their community and advance human rights observation."